Again out at the Torrance Barrens Dark Sky, Ontario, Canada and the Geminid meteor shower put on a brilliant display for everyone to see. I went out to the barrens around 7 pm to setup and get prepared for what was to come. Preparing for the clouds to break and I could still see Jupiter through the haze I setup knowing Gemini was rising to the east and setting in the west. I setup pointing up and in an east – southeasterly direction, getting the rise of Orion, the exit of the Pleiades "the Seven Sister/tiny dipper" and Jupiter. Once I had my camera, laptop, cables and power all ready I started to shoot. Once setup I met some great people who came out to the barrens to watch this display as well. I really enjoyed the display and would say at least 100:1 meteors where actually in frame. With a very wide radiant, the meteors where shooting all over the sky, some lasting well over several seconds. With my camera setup doing it's thing and being in the dark sky, even the smallest meteors where quite visible. I hope you got to see the show, if not I hope you enjoy these pictures and the time lapse I have made.
This image on the top is a composite image of most of the meteors I captured in the Torrance Barrens Dark Sky.  There are over 20 meteors in this image. How many can you count?
Please remember, these pictures are reduced quality and size and for viewing purposes only. Prints and digital copies can be purchased, you just have to send me a email. Thank you very much.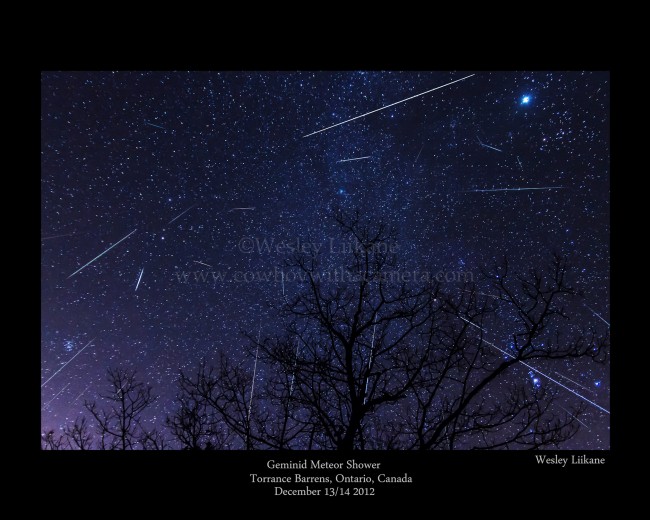 Images on this website are for viewing purposes only and are copyright protected and owned by Wesley Liikane – Cowboy With a Camera. Therefore may not be downloaded, copied or reproduced in any way. Failure to do so may result in legal action.
Feel free to send us a message and we will try to get back to you within 24hours
Watch in HD for better quality!!!